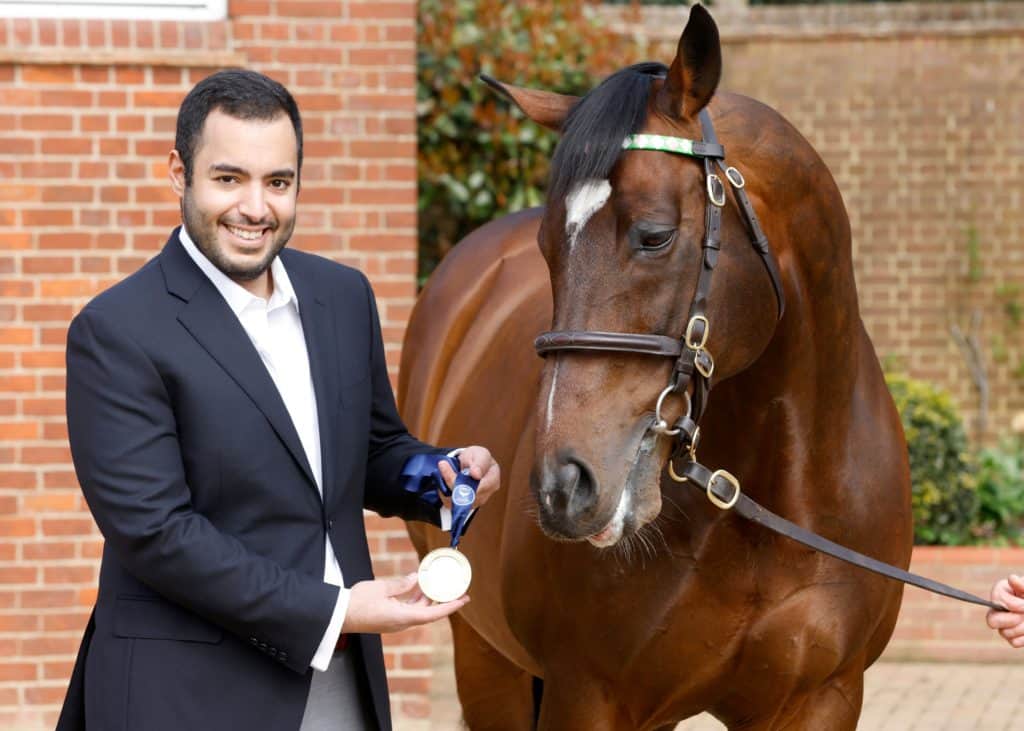 Europe
Frankel first horse to be inducted into new Hall of Fame
QIPCO British Champions Series has announced that Frankel will be the first horse to be inducted into the new QIPCO British Champions Series Hall of Fame, alongside champion jockey Lester Piggott.
The Hall of Fame is available at Horseracinghof.com.
Launched to mark the 10th anniversary of QIPCO's sponsorship of the British Champions Series, the first official Hall of Fame for British Flat racing sets out to immortalise the modern greats of the sport, both human and equine, from 1970 onwards.
Rod Street, Chief Executive Officer of British Champions Series, said: "We are delighted to announce Frankel and Lester Piggott as the very first inductees into the QIPCO British Champions Series Hall of Fame. The Series showcases the world's finest flat racing and there have been no greater talents in our sport than the two which we are honouring today. Along with QIPCO, and the Judging Panel, we look forward to celebrating racing's rich history and continuing to honour further greats of the sport through the Hall of Fame initiative."
As the highest-rated horse in history, unbeaten in 14 starts and with 10 Group 1 races to his name, Frankel is an undisputed modern great who penetrated the public consciousness in a way that few Flat racing horses are able to do.
His performance in the first ever Series race, the 2011 renewal of the QIPCO 2000 Guineas, was astonishing. He and regular jockey Tom Queally opened up a 15-length lead at the halfway stage, eventually winning by a distance of six lengths, the biggest winning margin in the 2000 Guineas since Tudor Minstrel in 1947.
Sheikh Fahad bin Abdullah Al-Thani, director of QIPCO Holding, recently presented Frankel's connections with his Hall of Fame medal. He said: "Watching Frankel win the QIPCO 2000 Guineas 10 years ago was a surreal experience and I've not had one like it on a racecourse before. The crowds were on their feet and clapping at halfway - Frankel completely demolished the rest of the field. It was an amazing day. It is absolutely fitting to see such an incredible horse inducted into the QIPCO British Champions Series Hall of Fame alongside another legend of the sport in Lester Piggott."
Frankel, trained by the late, great Sir Henry Cecil, was simply on a different level and seemed to revel in blitzing his rivals with speed, stamina and an abnormally huge stride pattern. Other notable displays were produced in the Queen Anne Stakes at Royal Ascot in 2012, one of the greatest performances over the mile distance; while his seven-length win at the Juddmonte International at York over the extended distance of a mile and a quarter is widely recognised as his best.
His emotional farewell at QIPCO British Champions Day 2012 came in front of Her Majesty The Queen and a sell-out Ascot crowd, with Frankel fending off previous winner Cirrus Des Aigles to win the QIPCO Champion Stakes, securing an official rating of 141 (which is still unbeaten) and signing off a remarkable, unbeaten career.
Douglas Erskine Crum, Chief Executive Officer of Juddmonte Group, said: "On behalf of Prince Khalid's family, for Frankel to be the first to be inducted into the QIPCO British Champions Series Hall of Fame is testament to Prince Khalid's passion and vision for the thoroughbred. It is his legacy that Frankel should be the first horse to be recognised, alongside Lester Piggott, who rode Prince Khalid's very first winner, Charming Native, to victory at Windsor in May 1979.
"Everyone at Juddmonte is delighted to be a part of this exciting new venture for British racing and thanks Sheikh Hamad and Sheikh Fahad of QIPCO for their generous partnership with this prestigious accolade."
Watch the Frankel Hall of Fame video here
Frankel's jockey, Tom Queally, said: "I'm pleased that Frankel's unblemished career has been acknowledged by the new Hall of Fame initiative, and I'm especially delighted that he is the first racehorse to be given the accolade. I will always fondly remember the moments I spent with him."
Quotes
"I'd say Henry would be very proud of Frankel being inducted into the Hall of Fame, as am I. He'd say it was a fitting tribute because Frankel had such a brilliant racing career. It's been a privilege to have been involved with the horse and it was such a pleasure to be around him on a daily basis with everyone at Warren Place. I always remember Teddy (Grimthorpe) said 'don't forget to enjoy it' and that's exactly what we did." Lady Jane Cecil, wife of the late Sir Henry Cecil, Frankel's trainer
"It means a great deal to everyone at Juddmonte to have Frankel as the very first horse inducted into the Hall of Fame. This is recognition of the highest honour, it's an institution which I hope will grow and to have Frankel walk through the doors as the first horse is sensational. Between Frankel's ears, he had a tremendous will to win. He is the greatest horse I've seen in my lifetime, no question." Lord Teddy Grimthorpe, former Racing Manager to the late Prince Khalid Abdullah, Frankel's owner
"Frankel is, quite simply, the best horse I have ever seen or expect to see - and, I would argue, that applies to everyone else, too. When winning the 2012 Queen Anne over a mile at Ascot, he unleashed sustained speed for three full furlongs comparable to one of the world's greatest sprinters, Dayjur. Yet later that year, he went on to win the Juddmonte International Stakes over an extended 10 furlongs, trouncing Group 1 winners in an edition conducted at a pace that tested stamina. Visually, I will never forget his QIPCO 2000 Guineas victory the preceding year. Horses who race that unfetteredly usually stagger home last rather than winning by six lengths. He was a monster." Lydia Hislop, Racing TV Presenter and Hall of Fame Judging Panel
"To remain unbeaten across three seasons, and through 14 starts in 10 Group 1 races, was not just a testament to Frankel's own innate ability but to the way his trainer fine-tuned the balance between the horse's brilliance and exuberance. His legacy is far from known, as his stud career remains at a relatively nascent stage, but on the track he was truly a horse for the ages. Those of us who were able to witness his rise at first hand can only look back and thank our lucky stars that we were racing fans in the days of Frankel." Emma Berry, European Editor, Thoroughbred Daily News