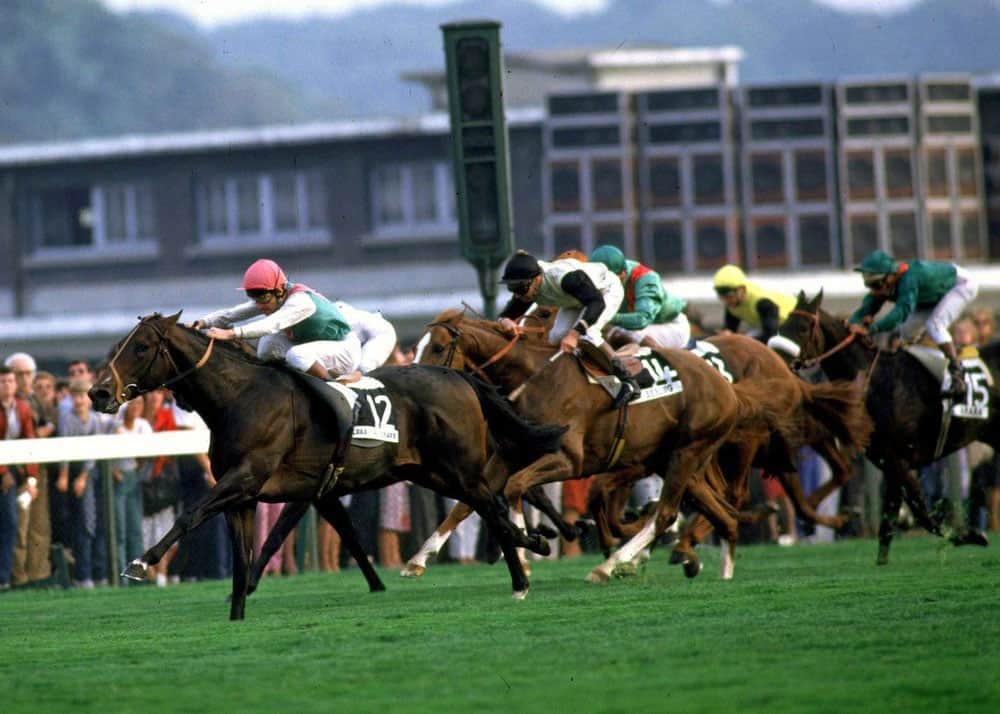 Dancing Brave winning the Gr.1 Prix de l'Arc de Triomphe © Trevor Jones
Europe
Dancing Brave's iconic Arc the greatest horserace
Dancing Brave's Arc success in 1986 has been voted the greatest ever horserace in a recent Racing Post poll.
Taken from the Racing Post, 23rd July 2022, by Lee Mottershead:
The most popular three choices were separated by just one per cent of the total vote, but the tightest of tussles has ended with Racing Post readers deciding that Dancing Brave's 1986 Prix de l'Arc de Triomphe deserves to be called the greatest ever horserace.
In a photo-finish outcome to the public poll, the most iconic of all Arcs gained 17 per cent of the vote, pushing it just ahead of the 1973 Grand National duel between Crisp and Red Rum. That ended on 16.1 per cent, with 16 per cent selecting the 1975 King George VI and Queen Elizabeth Stakes, in which Grundy and Bustino fought out a famous finish up Ascot's home straight.
One of the strongest fields ever to grace a major European Flat race was pulverised by the Pat Eddery-ridden Dancing Brave, who unleashed an incredible burst of speed that completely overwhelmed fellow turf superstars Bering, Triptych and Shahrastani. It was a performance that resulted in the Guy Harwood-trained Dancing Brave receiving what remains the highest ever official global racehorse ranking. It also earned him a special place in the heart of his late owner Khalid Abdullah, whose colours have subsequently been carried by two other racing legends, Frankel and Enable.
Speaking on behalf of Abdullah's family, Juddmonte Chief Executive Douglas Erskine Crum said: "With such a stellar line-up, the 1986 Prix de l'Arc de Triomphe was truly a race that brought together one of the best Arc fields ever assembled and Dancing Brave swept past them in a once-in-a-generation performance.
"Everyone associated with Juddmonte, past and present, is delighted the Racing Post's voters have decreed that Dancing Brave's Arc was the greatest ever race. It is always more meaningful when a result like this is won by a public vote, especially some 36 years after the race.
"On behalf of Juddmonte, thank you to all those who voted for Dancing Brave."
The news was also received with pride and pleasure by French racing's governing body France Galop, whose chief executive Olivier Delloye said: "It's a great honour that Racing Post readers, who have such a deep racing culture, have picked the 1986 Arc as the best horserace ever run.
"The Arc has been awarded the world's best horserace on a number of occasions in recent years, but this prize is really special as it shows that the 1986 renewal is in people's hearts for ever.
"As far as I'm concerned, I remember cheering for Bering, who briefly took the lead but couldn't do anything when Dancing Brave quickened and flew to victory.
"After the drama of Sagace being disqualified in favour of Rainbow Quest the year before, it was fantastic to see the best horse win without any possible discussion."
Broadcaster and journalist Rishi Persad made the case for Dancing Brave's Arc in a deeply personal Racing Post article.
He said: "The idea of Dancing Brave's Arc winning the Greatest Ever Race vote satisfies me enormously because it shows a lot of people share my feeling that what we saw that day was something almost magical, something that transcended the bounds of a normal racing day.
"I have lived with the memory of that race in my head ever since. Every time we get to the Arc – which, for me, is one of the world's greatest sporting events – I'm always reminded of Dancing Brave's success.
"What I saw that day was something that cemented my love for the sport. I hoped people felt the same way, and I assumed they did, but I never knew for sure. It's really satisfying to know so many other people who love the sport share my feeling."
The races that finished outside the first three, in no particular order, were the Cheltenham Gold Cups of 1964 (Arkle v Mill House), 1986 (Dawn Run) and 1989 (Desert Orchid), Mandarin's 1962 Grand Steeplechase de Paris, Secretariat's 1973 Belmont Stakes, the 2001 Irish Champion Stakes head-to-head between Fantastic Light and Galileo and the 2005 Champion Hurdle won by Hardy Eustace.